New from CVI!
Delivering Value to Customers – at a Profit
This two-pager illustrates how Pfizer positioned Lipitor, the fourth Statin drug to market, to become the best selling pharmaceutical brand ever. The competitive value map positions the statin drug brands on the competitive landscape of overall performance (efficacy at regulating cholesterol) for price ($ per month). The fair value reference line enables one to assess each brand's price relative to its warranted market value – and whether the brand is likely to gain, or lose, market share. Finally, the value map display includes data on the cost per unit and profit margin for Lipitor.
Thus one can assess a new product's price versus its warranted market value and relative incumbent products, while also knowing the new product's unit cost and profit margin. In addition one can see the customer surplus (the discount offered versus Lipitor's market value) Pfizer offered to attract new patients and to get patients of established brand to switch to Lipitor.
Take a look at the two-pager and ask yourself, "Did Pfizer leave money on the table to drive Lipitor's sales to an all time high for a pharmaceutical brand?" After second guessing Pfizer, you may also wind up asking yourself,
• "Why aren't we doing a competitive value analysis of our new products versus the incumbent products prior to launch?"
• "Why do we just go forward with a questionable targeted transactions price and see what happens at launch?"
Download "Delivering Value Profitably"
A Customer Value Perspective on the Launch of the iPad Mini
When Apple introduced the iPad Mini in late 2012, it entered a crowded market category - small tablets. The dozens of models available to consumers included great products from the likes of Google and Amazon, some of which were available for as little as $200. Apple priced the most basic iPad Mini at $329, and prices for the top-of-the-line models were double that. Security analysts were mixed in terms of the wisdom of Apple's move. Was the iPad Mini overpriced?
The discipline of Competitive Value Analysis (CVA) helps product managers test the viability of different product launch strategies. We wondered what a CVA might say about the iPad Mini launch. You can click below to download our analysis. It might give you some insight into how you can use Customer Value Analysis to help make your next product launch a marketing success.
ISBM Webinar available for viewing on line
Iin a Webinar hosted by Penn State's Institute for the Study of Business Markets, Bradley Gale, Author, Managing Customer Value, Founder & President, Customer Value, Inc. spoke on Earning Market-Share Gains & Price Premiums -- Via Value Mapping . The talk was aimed at product-line and general managers whose businesses:
Are launching new products that will compete with already-in-market alternatives,
Have a mission to gain market share or to stem market-share losses,
Are earning below-par margins.
The webinar is now available for viewing on line. You can access the webinar, and also download a copy of the slides, on ISBM's web site. There is also a copy of the slides, annotated with speaker notes, available here.


Value-Strategy Toolkit™ Software, 2018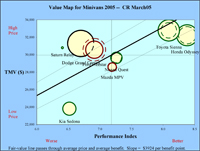 VST Value Map:
Competitive Value Analysis is your key to more effective product management, product development, pricing, marketing, and selling. The Value Strategy Toolkit™ (VST) uses the tools of Customer Value Management, including the Competitive Value Scorecard and Value Map, to let you look at your products the way customers assess them – as choices competing head-to-head against other products in the category.
The main input into a Competitive Value Analysis is the comparative performance table. This table compares your product to the competition in terms of the factors that matter to customers. The 2018 VST offers tools that make it easy to populate this table and give you immediate feedback on the implications of the data for your product positioning and pricing strategy.
What can your product teams do with the Value-Strategy Toolkit™?
Understand the true strengths and weaknesses of your product offer, and identify opportunities that can make your product more competitive.
Look at your product head-to-head against each of your toughest competitors to think through your value-selling strategy
Set your prices based on what your product is truly worth
Hone your marketing message
Align your management team around a plan to serve customers better.
The patented Value-Strategy Toolkit™ (VST) software lets you do a comprehensive comparison of the performance of your product versus the competition using any combination of (a) technical measures from product specs, laboratory, or field trials, (b) customer performance ratings, and (c) subjective expert-opinion scores. The latest version more completely integrates comparative costs into the analysis. For many products, the customers' costs in owning and using the product are as important as the actual cost of acquiring the product. Products that can save the customer money in use are worth more than products that can't. The Product Appraisal Table in the VST can estimate the worth of any product based on its comparative strengths in both performance and in the costs of ownership and use.
For more info see:
How to construct value benchmarks for strategic pricing- get the article
Businesses, as customers, have a justified reputation for hard-nosed bargaining. However, as any marketer knows, although business customers do not lightly pay a premium price for a product, they don't always spring for the lowest cost options. Business customers are typically rigorous in assessing the performance of products they are considering. In the end, they will select products that give them superior value, performance for price.
What is your product worth to your customer? In an article published in the Journal of Revenue and Pricing Management, Bradley T. Gale and Donald J. Swire provide a blueprint for developing a customer-eye perspective on what your product is worth. Implementing Strategic B2B Pricing: Constructing Value Benchmarks describes in detail how to measure performance the way your customer sees it, how to assess how your product stacks up to the competition, and how to relate that performance assessment to going rates in the market.
* US Patent No. 8,108,246 B2, Bradley Gale and Donald Swire, System and Method for Pricing a Product, Issued 1/31/2012

In-house Workshops: Learn Customer Value Management while Honing your Product-Market Strategy
| | |
| --- | --- |
| In our new action-learning workshops, your teams learn customer value management (CVM) techniques while addressing specific product-strategy issues facing your business. | |
Three 2-day in-house workshops to choose from:
Market-Value Pricing and Product Appraisal - Teams develop benchmarks for price based on your performance advantages and disadvantages relative to competitors and on the going rates for products in your category.
Competitive Evaluation of New-Product Concepts - Evaluate your new product's anticipated performance and position among incumbent players and likely entrants. Target a price that will position the product on the price-performance envelope.
Customer Value Analysis for Growth and Profitability - Stem market-share losses. Earn market-share gains. Craft a winning value proposition that builds on your product's unique strengths. Set prices to capture the full value of your competitive advantages.
Seminar on Market-Value Pricing -- Now Online
Dr. Bradley T. Gale - Author, Managing Customer Value; Founder and President, Customer Value Inc. - speaks on Competitive Value Assessment for Market-Value Pricing in this new online seminar. The 56-minute talk, available anytime 24/7, is a great resource for individuals or teams interested in pricing on value. Topics covered include
Overview of the framework for managing customer value
Case example illustrating the techniques and tools of customer value mapping
Case vignettes of how business teams have used customer value analysis: business issue, analysis steps, insights gained, actions taken, and results achieved
Responses to frequently asked questions
Examples of how segmentation and differentiation link to value analysis
How to get started
This seminar is one in a series on Market-Value Pricing produced by London-based Henry Stewart Talks. These talks are aimed at managers and executives in industrial and commercial enterprises who are looking to improve the profitability of their products and services. Leading experts have been brought together under the guidance of Series Editor Mr. Harry Macdivitt, Director of Axia Value Solutions, whose 20 years of experience in the field includes general and marketing management, consultancy and training.
A special discount for this talk as well as for the others in the series is available. For more information about the series and the special rate, see www.hstalks.com/r/cval.
Download brochure: Developing Successful Strategies using the Value Strategy Toolkit
Market-Value Pricing & Marketing
The idea behind Market-Value pricing is compelling: make sure that your prices are in line with the benefits you deliver to customers. It's the only safe way to steer a course between the shoals of overpricing (alienating customers) and the rocks of underpricing (and leaving money on the table). But Market-Value pricing can be done only if you can calculate what your product, with its unique pattern of strengths and weaknesses, is really worth to the customer. The need for such calculations has spawned a number of different approaches to figuring out a product's worth. Among these approaches are attribute importance-performance analysis, economic value analysis, and conjoint analysis.
CVI's Market-Value-pricing methodology, described in our white paper Market-Value Marketing and Pricing, synthesizes these approaches. It allows you to draw on the best of all of the tools depending on what's most appropriate and what data you have readily available.
Who Uses Customer Value Analysis and Management?
Business-unit general managers:
Stem market-share losses, earn market-share gains
Align functions heads to outperform competitors on attributes that matter most to customers
Drive profitable product-line growth
Product-development leaders
Use objective measures on product performance elements to construct overall measures of performance for your products and competing products
Assess competitiveness of alternative product concepts and targeted prices versus products likely to be on the market at launch
Fund and accelerate the most promising product concepts, kill off unpromising concepts early on
Set realistic target prices -- for launch and over the product life cycle
Product-line managers
Prioritize actions to improve performance on key buying factors (product, service, relationship, and brand affinity attributes)
Differentiate products to win in their targeted market segments
Change prices based on the changing value of products, as customer needs and competitive offerings change
Marketing strategists
Assess the product's comparative advantages and disadvantages in key market segments
Craft value propositions for the product category as a whole and for each targeted segment
Prepare sales team aids for selling head-to-head versus each key competitor
Strategic pricing leaders
Set realistic target prices for new products
Change prices as the competitive value of products change